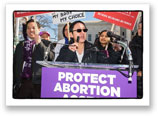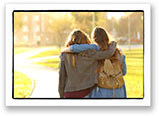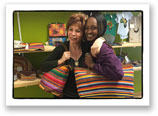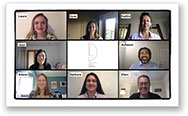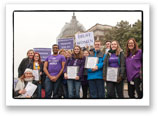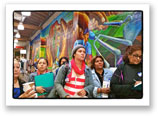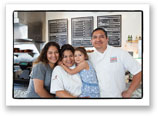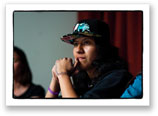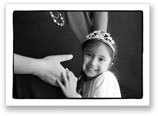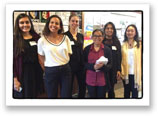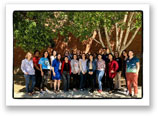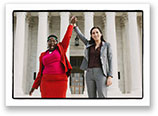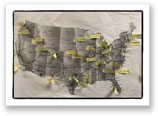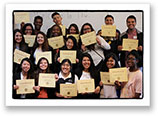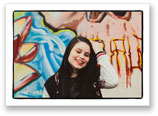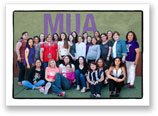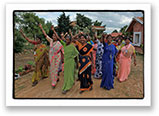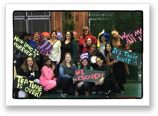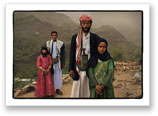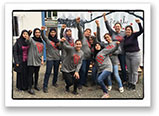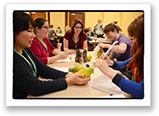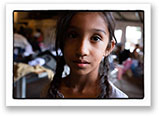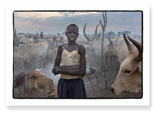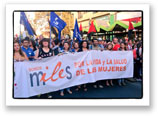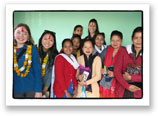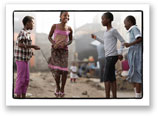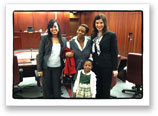 Our Grantees




The only global legal advocacy organization dedicated to reproductive rights, the Center for Reproductive Rights (CRR) has used the law for more than 20 years to advance reproductive freedom as a fundamental human right that all governments are legally obligated to protect. CRR envisions a world where women are free to decide whether and when to have children, have access to the best reproductive healthcare available and can exercise their choices without coercion or discrimination.

The Brigid Alliance arranges and funds confidential, personalized travel support to women seeking abortion care in increasingly hostile environments. Working in partnership with a network of providers, the Brigid Alliance seeks to close the gap between the right to an abortion and the ability to access one.

Thistle Farms is a sanctuary for female survivors of abuse, addiction, prostitution and trafficking. Founded in 1997 by Rev. Becca Stevens, Thistle Farms' residential program provides housing for up to 32 women and serves hundreds more with advocacy and referral services. Its social enterprises employ 45 current and former residents who produce natural bath and body products and operate the Thistle Stop Cafe and the Studios Workshop. An additional 1,000 women worldwide are employed through the Thistle Farms Global Marketplace.

Immigrant Legal Defense (ILD) is a nonprofit agency dedicated to providing immigration legal services. ILD'sattorneys have worked together for many years, and their expertise —which covers the full scope of immigration law and procedure — has enabled the agency to represent thousands of unaccompanied minors, families seeking asylum, and other individuals throughout California.

As anti-choice groups work overtime to limit women's reproductive rights nationwide, NARAL fights back by using the political process to protect and expand reproductive freedom. To that end, it lobbies members of Congress, urging them to support the right to choose legal abortion; organizes to ensure that lawmakers hear from the pro-choice people they represent; and works to educate the public on how what happens in Congress and state legislatures affects reproductive freedom.

Prospera partners with Latina entrepreneurs to launch social enterprises that foster cooperation, economic independence and well-being in immigrant communities. Its comprehensive, culturally specific programs address the unique challenges and immense resourcefulness that Latina immigrants bring. Prospera enables Latina entrepreneurs to come together in a safe space to take risks and access the tools and capital they need to achieve economic independence and well-being.

A San Francisco nonprofit dedicated to solving problems of equity in business ownership, La Cocina provides affordable commercial kitchen space to women, immigrants and people of color. Currently, women make up just 33% of business owners nationwide. By providing mentorship and access to opportunities, La Cocina has enabled hundreds of women to start their own businesses and become financially independent.

Operating from the position that when all youth succeed, the entire community is stronger, Huckleberry Youth Programs has for more than 50 years partnered with teens and their families. Dedicated to strengthening those families, the organization empowers young people with services that promote safety in times of crisis, physical and emotional health and well-being, social justice in communities facing inequality, and educational success.

Homeless Prenatal Program (HPP) is a family resource center dedicated to breaking the cycle of childhood poverty. HPP assists clients with housing, prenatal and parenting support, domestic violence, substance abuse, family unification, access to technology, and financial issues, including emergency support of basic needs. Thousands of families turn to HPP each year; as a result, over 90 percent of the infants born to clients are healthy and drug-free, hundreds of families escape homelessness and many others have seen their incomes climb after participating in the organization's financial stability programs. More than half of all HPP staff members are former clients, offering newcomers proof that investments made in parents can break the cycle of childhood poverty.

For more than 30 years, the East Bay Sanctuary Covenant (EBSC) has offered support and legal services to those escaping war, political persecution, intolerance, exploitation and other expressions of violence. From its basement office in a church in Berkeley, Calif., EBSC, which recently celebrated its 3,000th asylum success, advocates on behalf of low-income and indigent refugees and immigrants. An asylum grant allows individuals to stay in the United States, helps them to petition for family members, and provides a path for residency and naturalization.

The Young Center for Immigrant Children's Rights protects and advances the rights and interests of immigrant children. With the aid of bilingual volunteers, Young Center attorneys and social workers are appointed as child advocates to ensure that separated and unaccompanied children facing the U.S. immigration system are treated as children first. Young Center's volunteer child advocates also meet with children in federal custody weekly to make sure they are not alone, their stories are heard, and their safety and well-being is prioritized in immigration proceedings.

The Human Trafficking Legal Center works to hold traffickers accountable for their crimes. Working together with pro bono attorney partners, the Legal Center fights for justice on behalf of trafficking survivors, helping them reclaim their lives.

The Casa Alitas Program serves migrant families who have left their home countries to escape violence and poverty. In addition to providing care and short-term shelter, the organization helps reunite migrants with family members living in the United States. Casa Alitas offers a safe haven for immigrants seeking shelter from unimaginable violence, provides a beacon of light in an otherwise harsh climate of anti-migrant vitriol, and shows the families it serves that there are people in this world who care deeply about their plight and their futures.

ScholarMatch is a nonprofit organization dedicated to helping first-generation college students earn a bachelor's degree within five years. ScholarMatch provides individualized advice, targeted financial support, and career mentoring all the way through to graduation.

Fondo Semillas is a nonprofit organization focused on improving women's lives throughout Mexico. Its goal is a country where all women—indigenous, mestiza, black, young, migrant, heterosexual, lesbian, mothers and students—can make their own decisions and have access to health services, decent jobs, justice and happiness. Instead of providing short-term solutions to the conditions of injustice and inequality women face in Mexico, Fondo Semillas works to address these issues structurally in order to modify them. For the past 27 years, Fondo Semillas has benefited more than 685,000 women directly and 2.5 million others indirectly, including girls, boys and men.

Mujeres Unidas y Activas (MUA) is a grassroots organization with a dual mission of promoting personal transformation and building community power as a means of achieving social and economic justice. MUA's innovative leadership development model trains its Latina immigrant members to advocate on their own behalf and is a national model for immigrant empowerment. The organization has launched a variety of local, state and national coalitions and alliances, all focused on improving the lives of immigrants in the San Francisco Bay Area and beyond.

Global Fund for Women is one of the world's leading foundations for gender equality, standing up for the human rights of women and girls. It campaigns for zero violence, economic and political empowerment, and sexual and reproductive health and rights. In accordance with its vision that every woman and girl is strong, safe, powerful and heard, the foundation funds and partners with women-led groups fighting for justice in their own communities. Its rights-based approach gets to the root of gender inequality and is seen as the most effective way to create permanent social change.

MISSSEY is dedicated to combatting the heartbreaking epidemic of commercial sexual exploitation of children throughout California. A survivor-centered, trauma-informed organization, MISSEY supports and advocates for youth who have been victimized by or are vulnerable to child sex trafficking.

Too Young to Wed is an aid agency dedicated to empowering girls and ending the practice of forced child marriage. Its multimedia projects are the centerpiece of its advocacy efforts and feature the haunting stories of child brides from Nepal, India, Tanzania, Ethiopia, Yemen, Afghanistan and even the U.S. In collaboration with nongovernmental organizations and other nonprofits, Too Young to Wed uses storytelling to amplify the voices of the girls in those stories and build a global community able to transform advocacy into tangible action.

Love Welcomes is a creative social enterprise that helps refugee women stitch their lives back together. Launched in 2017, the organization was created in response to the refugee crisis then taking place in Greece. Today it works in other locations as well, supporting both refugees in camps and those who have been resettled. A team of refugee women upcycle materials into beautiful handmade home products that are sold all over the world. Love Welcomes thinks big and works to change one life at a time.

Medical Students for Choice helps to create and support tomorrow's abortion providers and pro-choice physicians. The organization recognizes the physical and emotional toll reproductive oppression takes on Black communities, and works to hold the needs of people of color front and center.

The Florence Immigrant & Refugee Rights Project is the only organization that provides free legal and social services to immigrant detainees in Arizona. Dedicated to defending the rights of detainees against an arbitrary and punitive immigration policy that has attacked asylum seekers—including women and girls who are the victims of domestic, sexual and gender-based violence—the Florence Project aims to ensure that all immigrants facing removal have access to counsel, understand their rights under the law, and are treated fairly and humanely.

Human Rights Watch (HRW) is a human rights organization renowned for fact-finding, impartial reporting and effective use of media and targeted advocacy, often in partnership with local human rights groups. Each year, the nonprofit, non-governmental organization publishes more than 100 reports and briefings on human rights conditions in some 90 countries, documents that generate extensive press in local and international media. The leverage such coverage brings facilitates access to government officials, the United Nations, regional groups such as the African Union and the European Union, financial institutions and corporations—access the organization uses to press for policy changes that promote human rights and justice around the world.

MILES Chile began as a citizen movement in 2010 and was consolidated as a non-governmental organization just a few years later. Dedicated to promoting sexual and reproductive rights, the nonprofit works to influence public policy, enact legislative changes and coordinate networks. MILES Chile's efforts are conducted in the framework of human rights; it promotes respect for people independent of race, creed, ethnicity, political ideology, gender, ability, sexual orientation and age.

The Nepal Youth Foundation brings freedom, health, shelter and education to Nepal's most impoverished children. In addition to providing schools, workshops, housing and nutrition to orphans and displaced children, the Sausalito-based nonprofit has freed more than 15,000 girls from indentured servitude, an advocacy that has changed the country's culture.

RefugePoint advances lasting solutions for at-risk refugees by identifying refugees who fall through humanitarian aid cracks. The nonprofit organization has directly assisted over 54,000 refugees in resettlement, and works in partnership with other groups to guarantee access for thousands more. Instead of asking, "How can we feed and shelter more refugees for longer?" RefugePoint asks, "What are the long-term solutions that will enable refugees to lead healthy, dignified lives and become contributing members of society again?"

Kids in Need of Defense (KIND) provides pro bono attorneys to represent unaccompanied immigrant and refugee children in their deportation proceedings. It also offers legal screenings and "Know Your Rights" presentations. KIND works to ensure that unaccompanied children receive fair and appropriate treatment from the U.S. immigration system. In addition to protecting children's rights and safety before, during and after migration, KIND also helps children returning to their home countries to reintegrate back into their communities.
© 2023 The Isabel Allende Foundation, a
501(c)(3)
nonprofit organization